Skip to Content
A/C Repairs in Olympia, WA from the Experts at A+ Services
While the summers in the Olympia, WA area don't get as hot as other areas in the country, we still get some rather warm weather and having a broken A/C unit can cause significant discomfort in your home. Keep everyone happy and healthy by reaching out to A+ Services for our professional A/C repairs today and get the relief you need from the heat. For more than 20 years, we have assisted homeowners and business owners when their air conditioners have been on the fritz. Our experience has allowed us to work on modern cooling units as well as traditional ones to help any home in our community. At A+ Services, we also equip our field staff with the industry's best tools to ensure they can swiftly take care of your issue and prevent multiple trips back and forth to the office. Our attention to detail shortens repair time and cools your home quicker.
You can count on us for heating, cooling, electric, plumbing, and septic services around your home in the all across Olympia, Thurston County, Pierce County, Lewis County, & Mason County. Our dedicated staff comes to your doors licensed, insured, and bonded to get the job done the first time correctly. We provide our customers with upfront pricing and even offer same-day services. A+ Services is there for you any time of day or night. We get a team out right away in the middle of the night or on Christmas morning. Call today to schedule your appointment or report an emergency.
Signs You Need A/C Repairs
It may be challenging to recognize if your air conditioner is having issues. You will obviously know once it has stopped working altogether, but wouldn't it be nice to catch the smaller issues before they lead to dramatic problems? Thankfully, you have a friend in the industry with A+ Services. We are happy to help you identify the warning signs your unit displays when it needs repairing. If you begin to hear or see the following issues, give us a call for an A/C inspection:
Loud Noises: Don't get us wrong, there will be some noises while your air conditioner is working, but your ears shouldn't be berated with loud and constant sounds while it operates. If you begin to hear banging, clanking, or thudding from your vents or outdoor unit, it's time to call the professionals for A/C repairs. We can find the source and repair the system in no time. We understand what it's like going without cool air, which is why our team works to keep the downtime to a minimum.
Weird Smells: When you turn on your air conditioner, you shouldn't smell anything out of the ordinary. Only odorless, colorless, and cool air should be coming through your vents. Anything other than this is a sign you need to give our team a call. Call on the professionals to keep you and your family protected.
Low to No Air: When you are attempting to cool your home, you should feel a rush of cold air from the vents each time it activates. A+ Services is here to help when weak airflow is coming from your vents. We inspect your entire unit to discover the problem. Once found, we can service your unit and get any replacement parts necessary for A/C repairs. We aim to produce a strong airstream through your home again. Each room will be filled with refreshing, clean air thanks to our service team and its skills.
Warm Air: Having warm airflow from your vents in the summer is never a good sign. You turned the thermostat to 68 degrees, so why does it feel like 88 degrees? Allow the team at A+ Services to help locate the problem and create a plan of action to get the desired cold air throughout your home this summer. If you don't have this issue fixed quickly, it can lead to severe problems and a potential premature replacement of the entire unit! Our staff prevents this from occurring with high-quality A/C repairs and maintenance.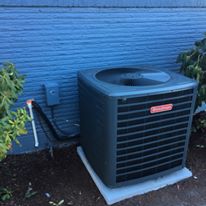 A/C Maintenance Helps Save You Money
Getting A/C maintenance from the experts at A+ Services will grant your unit many more years. Most manufacturers recommend replacing your HVAC unit after 10-15 years. With the help of our team, we can get you closer to the 15-year mark. Without proper maintenance at least twice a year, you could be setting yourself up for some unsettling surprises. While we may not need to use our air conditioners as much as other parts of the country, there are days where they are absolutely necessary. With our knowledge and experience, we can help catch minor issues before they turn into larger ones to keep your air conditioning unit active when you need it most.
Call A+ Services Today for Emergency Air Conditioning Repairs
A+ Services is here for you whenever you need us. Day or night, you can reach out to the team for home services such as heating, air conditioning, plumbing, electrical issues, septic backups, and more. We provide emergency home services because we understand there is never a good time for your household systems to break down. When they do, though, you have friends in the industry to help. Our team is at the ready 24 hours a day, 7 days a week, for your convenience. Equipped with the industry's best tools, we get your systems efficiently running again. You will always speak with a friendly and professional person when calling to get help with your emergency home services. There is never an automated response with tiresome menus to try and understand. Get direct support from our team anytime you call. Contact A+ Services today and receive transparent and competitive pricing on all services and maintenance needed throughout your home.
We provide air conditioning services across Olympia, Thurston County, Pierce County, Lewis County, & Mason County, Washington. Contact our local professionals today at (360) 491-1400 to request same day or next day services.