Skip to Content
Commercial HVAC Services in Olympia, WA
Contact A+ Services for Commercial Heating & Cooling
A+ Services specializes in providing prompt and reliable commercial heating and cooling services and repairs for businesses throughout the Olympia, WA area. Ensuring your HVAC unit is working properly and up to date with routine maintenance is one less thing to worry about, knowing the system will work reliably to keep employees, customers, and guests comfortable throughout the year. Are you having issues with your commercial HVAC unit? Contact us for service today. When you call A+ Services, you'll always speak to a live person on the phone, and we pride ourselves on our ability to handle most service calls the same day or by the following day.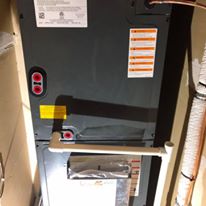 Signs Your Commercial Heating Needs Repair
As heating systems age, components can begin to wear and fail. One of the goals of preventative maintenance is to catch this before it happens and address it early, but that's not always possible. Things you should pay attention to to gauge the health of your heating system include:
The Heaters Age – Most commercial heating systems last reliably for about 10 years. Past the decade mark is when you should seriously consider having your commercial heater replaced.
No Hot Air – If the air coming out of the vents isn't as warm as it should be, give us a call right away.
Leaky Ductwork – Leaks in ducts will reduce the efficiency of your heater, raising your energy bills and making the system work harder than it should.
Maintenance Schedule – If you're not sure when the last time you had your commercial HVAC system serviced was, you should schedule a routine maintenance check as soon as possible.
Loud Noises or Odd Smells – If you notice your heater making new, strange noises or notice different smells when it's operating, there could be something wrong. The sooner our team can address it, the better off your equipment will be.
Preventative Maintenance for Commercial HVAC Systems
Commercial heating and cooling units will run reliably for years. However, they do require periodic maintenance and attention to minimize unexpected breakdowns or costly repairs. The best way to ensure you make it through the season with minimal issues is to have your HVAC unit serviced by the professionals at A+ Services twice a year, before the summer and again before the winter. Routine preventative maintenance like this enables our techs to check the key components of the heating and cooling system, replace filters as necessary, and test the unit. This service goes a long way in extending the life of the equipment and avoiding the need for emergency repairs.
Complete HVAC Repair and Replacement
Our team offers a variety of services to keep your business warm in the winter and cool in the summer. We perform comprehensive HVAC system repairs and replacements for most types of units, including emergency service. Call us for maintenance, repairs, or replacements for:
Signs Your Commercial Cooling System Needs Repair
There really aren't any issues that will fix themselves in a commercial air conditioning unit which is why it's essential you call professional technicians like the crew at A+ Services at the first sign of any problems or warning signs. Some signals are more obvious than others but paying attention to these will help you in the long run:
The Cooling System's Age – Similar to commercial heaters, commercial AC units have a life of about 10 years. If the unit is older than this, it is a good idea to proactively replace it even if it seems to be working fine.
Ductwork Leaks – Ductwork can form gaps in seams, where condensation or cool air can leak out. Neither of these is good for the system, and the ducts should be inspected regularly to prevent this.
No Cool Air – If you have no flow or low flow of air, there is an issue with the motor, fan, or another component.
Condensation Leaks – If you notice water or moisture leaking around the unit's base, it's a sign that your system needs repair.
Schedule Commercial HVAC Service Today
A+ Services is your one-stop shop for any commercial heating and cooling needs in Olympia, WA. We offer emergency repairs, same-day, and next-day service, and guarantee you'll always speak to a live representative on the phone when you call. Our company provides the convenience of handling most of your business needs, including electrical, plumbing, and septic service. Contact us for anything you need today!