Skip to Content
Get Cool, Consistent Air With A+ Services
A+ Services provides premier air conditioning services throughout Olympia, WA and the surrounding areas, including Thurston County, Pierce County, Lewis County, Mason County, and more. We want our valued customers to stay cool in the summer and spring months when temperatures can get up into the 80s. Since 1994, we have assisted home and business owners throughout the local area by helping ensure their heating and air conditioning appliances are efficient and effective. We work diligently to make sure our customers are safe and comfortable in their home or office, no matter the weather.
Quick & Efficient Emergency HVAC Services
While we offer regular maintenance services for your air conditioning unit, we understand emergencies can still occur. In case of an emergency, our team is available 24/7/365. We move quickly to get to your home or office to repair or replace your unit. Having a properly-functioning air conditioner isn't something you should consider a luxury. We provide coupons on top of our already low-cost services to help make them affordable and attainable for our customers. Rely on us to get the job done.
Residential & Commercial Air Conditioning Services
Thanks to our experience in the field and dedication to the craft, our HVAC teams can work on any air conditioner. We train our technicians rigorously and make sure they stay up-to-date on all of the latest models and innovations for servicing air conditioners. Below, we've listed the high-quality services you can rely on us for even in an emergency:
Residential air conditioning service
Residential maintenance
Home comfort issues
Commercial service and maintenance
Residential custom cooling design and installation
Installation and replacement
Repairs
Tune-ups
Rooftop unit repair for HVAC and food-grade equipment
Our Comprehensive Air Conditioning Services
Are you having problems with your air conditioner? The team at A+ Services can help. We offer various comprehensive air conditioning services to help home and business owners throughout Olympia, WA and the surrounding areas stay cool during the warmer months. Below, we've listed and described our comprehensive air conditioning services, including AC repair, AC installation, AC replacement, and more.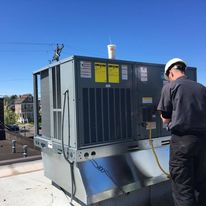 The Benefits of Routine Air Conditioning Maintenance
Routine air conditioning maintenance can provide home and business owners with many benefits. The more frequently an air conditioning unit is utilized, the more frequently it should be serviced by a professional. When your air conditioner is inspected, and maintenance is performed on it regularly, you can enjoy the following benefits. The benefits include, but are not limited to:
Improved Air Quality – When a highly-trained technician from A+ Services provides maintenance on your AC unit, all dirt and debris will be efficiently removed. When left to accumulate, these particles can find their way into the ductwork of your HVAC system and spread throughout your home or office, making for poor indoor air quality.
Improved Energy Efficiency – A highly-experienced technician from A+ Services will inspect and clean your HVAC unit's blades, cooling coils, and other essential parts during routine maintenance. Cleaner units can provide cooler temperatures with more significant energy savings. This can help home and business owners lower their monthly energy bills.
Increased Comfortability – If your air conditioning unit is malfunctioning and repairs or replacement services become necessary, the comfortability of you and your family or you and your employees can become jeopardized. Routine maintenance helps determine any irregularities or issues that might become a concern and tackles them before they do.
Prolonged Unit Life – When you hire a professional to perform preventative maintenance on your air conditioning unit, you are allowing your unit to maintain its top performance. This will help ensure that your unit runs optimally for the years to come.
Contact A+ Services Today for Air Conditioning Services
Is your air conditioning unit malfunctioning at your Olympia, WA home or business? Turn to the professionals at A+ Services for state-of-the-art air conditioning services. Whether you need air conditioning repair, replacement, or installation services, we're the team for the job. With more than two decades of industry experience, you can rely on our expert technicians to get the job done the first time. We also offer commercial refrigerator repair and ductwork services. To learn more about our services or to schedule a consultation with our air conditioning technicians, contact us today.